You may find yourself looking for a Dallas personal injury lawyer when you least expect it. Maybe you're hit by a car while crossing the street on your way home, or maybe you suffer an unexpected injury at work. The recovery can be tiring not just physically, but emotionally and financially. If you are injured due to the negligence of someone else, you may be angry and feel unsupported.
A personal injury attorney can take your side and fight for the financial compensation you deserve in the aftermath of a personal injury. But if you're already under a significant financial burden from medical bills, you may be unsure whether to hire legal representation. If you've ever wondered, "Why do I need a Dallas personal injury lawyer?" this is the right blog for you.
Reasons To Hire a Dallas Personal Injury Lawyer
Technically, there is no law against representing yourself in court. However, anyone with any legal experience seriously recommends against it. Without legal know-how, your case will very easily crumble under the weight of the defense presented by the other side's legal team.
Even if you understand personal injury law, a legal settlement or court trial is not something you want to go into alone. A Dallas personal injury attorney will not only use their resources and experiences to get you the maximum financial recovery, but they will offer the support and strong advocacy that you need during this hard time.
The reasons are many, but here are some of the most important ones to hiring a personal injury lawyer in Dallas:
#1: Contingency Fees Mean You Don't Pay Until You Win.
One of the first concerns most injured parties have is the cost of hiring an attorney. Although legal fees can be a hefty investment, many personal injury lawyers work on a contingency basis. That means that they will not charge any attorney fees upfront. You only have to pay them if you win. If you win, the attorneys' fees can come out of your compensation. If your case isn't won, you don't have to pay at all.
#2: You Have Legal Questions, Your Attorney Has Answers.
The aftermath of a personal injury can be a time when you have a number of questions. What are your rights in this situation? Do you even have a case? You may look up the answers online only to find conflicting results. That's why it's best to bring your questions to your personal injury attorney.
A local Dallas lawyer will be well-versed in Texas personal injury law. They can look up legal precedents that will help with your case and help you to build the strongest case possible. When going into a legal battle, it just pays to have someone on your side who understands the battlefield.
#3: A Dallas Personal Injury Lawyer Has Done This Before.
Aside from the legal know-how, you also want someone who has experience fighting for personal injury victims. A Dallas personal injury attorney has tried cases like yours before. They know when to handle your experiences with compassion and when to aggressively fight for you in a settlement or trial. They know how to handle insurance companies and arguments of opposing attorneys.
#4: They Can Handle Insurance Adjusters.
Most personal injury attorneys will recommend that you let them handle any interactions with insurance companies, particularly insurance adjusters. Adjusters are professionals working in the interest of the insurance company and, put bluntly, they do not want you to win your settlement. They will look for ways to poke holes in your statements and your case so that the insurance company doesn't have to pay.
When a personal injury victim interacts with an insurance adjuster, they may feel interrogated about their own pain. They can become emotional, and the insurance adjuster team will work to exploit that. Your personal injury attorney serves as a buffer between yourself and the insurance company, handling communications and preventing adjusters from taking advantage of you.
#5: Your Dallas Personal Injury Attorney Can Help You Build Your Case.
Your attorney will take charge of collecting evidence in your personal injury case, gathering witness testimony and statements from experts about the nature of the accident or your injury. Although it's a good idea to take pictures and hold onto medical invoices or pay stubs — you'll need that in building your case — preparing a case for settlement can be time-consuming, detail oriented, and stressful. Your attorney will do the heavy lifting to prove your entitlement to compensation.
#6: There May Be Mixed Liability.
Texas uses a modified comparative negligence model of liability in personal injury cases. This is an alternative to contributory negligence, in which case plaintiffs are prevented from collecting any damages if they were at all responsible for their own injury. According to Texas's modified comparative negligence model, plaintiffs can collect damages so long as the court does not deem them more than 50% responsible for the injury.
The amount of damages you will collect will depend on how much the court finds you to be at fault. Because of that, if the defense team knows they can't win, they will try to make you seem as liable as possible. Your personal injury lawyer will help to defend your rights to the compensation you deserve.
#7: You'll Get More Compensation with an Attorney on Your Side.
As we've established, insurance adjusters work hard to poke holes in your case so that the insurance company won't have to pay you. The job of your personal injury lawyer is to make your case as airtight as possible and advocate aggressively for you to receive compensation. According to the Insurance Research Council, claimants with legal representation tend to receive higher settlements than those who choose to represent themselves.
#8: Your Attorney Can Represent You at Trial.
Many personal injury cases settle. Your attorney negotiates with the insurance company to get you maximum compensation without going to trial, and any claims against the defendant are dismissed. But if the insurance company is unreasonable or unwilling to negotiate, the case may go to trial.
This can be much more taxing, and if it is inadvisable to represent yourself in a settlement, it's even more improbable to win your trial without legal representation. A trial is a grueling process; a study by the University of Chicago Law Review shows that only 4% of pro se (self-represented) plaintiffs tend to win their cases when it comes to litigation. On the other hand, represented plaintiffs win 86% of cases against pro se defendants and 51% of cases against represented defendants.
What Damages Can You Win in a Personal Injury Case?
There are two main types of compensation that you can be awarded in a personal injury case. The first is economic damages. These damages are meant to compensate you for the economic burden that was placed on you as a result of the injury, for medical bills, lost wages, disability, etc.
There are also non-economic damages. These are awarded to compensate for the emotional suffering you have faced because of your injury. In a personal injury case, this may include:
Pain and suffering
Emotional distress
Inconvenience
Loss of society and companionship
Loss of enjoyment of life.
To be awarded economic damages, you will likely have to speak to a mental health professional. They can then testify to your emotional state as well as to whether or not this is the result of your injury.
In extreme cases, there may also be punitive damages. Punitive damages are awarded by the court in cases of egregious negligence or actions leading to a personal injury. These might include hit-and-run cases or driving under the influence, for instance. In Texas, punitive damages cannot exceed two times the awarded economic damages plus the amount of non-economic damages, not to exceed $750,000. Punitive damages are not often awarded, but your attorney can help you figure out whether your case qualifies for punitive damages.
What Is the Statute of Limitations for Personal Injury in Texas?
The Texas statute of limitations for personal injury is two years after the date of the accident or the date at which you were diagnosed with the injury. If your case is not filed within two years, you will likely never get a chance to file it. After you have suffered a personal injury due to the fault of someone else, it's important to hire a Dallas personal injury lawyer and begin preparing your case as soon as possible.
Looking For a Dallas Personal Injury Lawyer? Let Crain Brogdon, LLP Help.
At Crain Brogdon, we know how personal your catastrophic injury can be. We also know how important it is to act quickly and decisively, which is where we come in. We have made a career of fighting for the injured and achieving maximum results so our clients can get on with their lives.
If you've ever wondered, "Why do I need a Dallas personal injury lawyer?", or "When do you need a Dallas Personal Injury Lawyer?" the simplest answer is that, after your injury, you need someone to fight for you and make the people responsible pay. That's what we can do at Crain Brogdon, LLP.
Contact us today or call us at (214) 522-9404 to learn more about our services or to schedule a free consultation.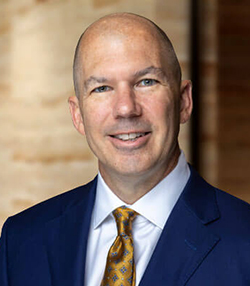 Attorney Robert D. Crain
Robert D. Crain is a nationally renowned personal injury attorney who has been included in lists such as U.S. News' Best Lawyers in America. Additional publications often include Rob on their "Best Lawyers" lists, including Texas Monthly and D Magazine. As a testament to his excellence, he is AV® Rated by Martindale-Hubbell. [ Attorney Bio ]